Hi sweet friends! I am SO excited to give you an update on the status of my book! I didn't expect to get to announce the title of my book, reveal the cover, and tell you what the book is about THIS week, so this was an unexpected delight for me! So without further a due, let's get to it!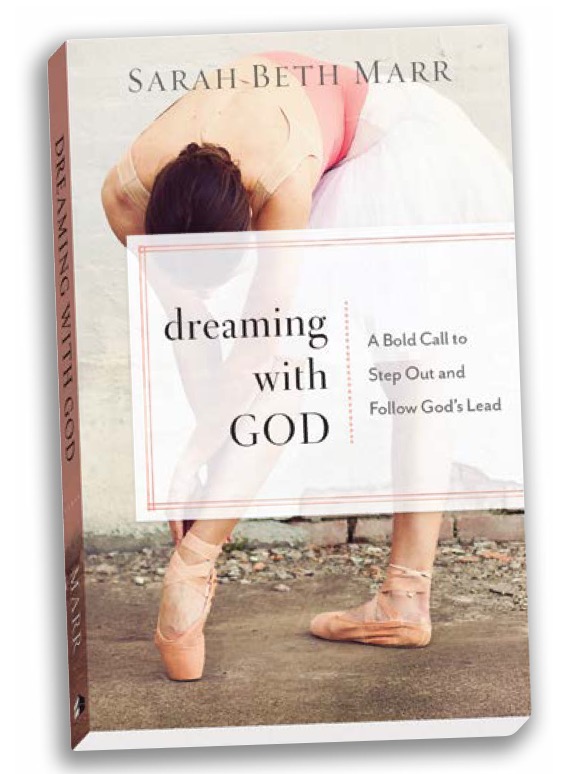 The world tells us that the way to make all our dreams come true is to set our own course and strive every day. But when it's all on us, we end up feeling exhausted, frustrated, and disappointed when things don't turn out as we'd hoped. Have you ever wondered if there was a better way?
There is. God knows the desires of our hearts – He put them there. And He calls us to trust, to lean on Him, and sometimes…to wait. 
Weaving together her unique perspective as a professional ballerina with profound truths drawn from Scripture and the life of faith, Sarah Beth Marr reminds us that we are not dreaming alone. If God has given us a dream, we can be sure that He will come alongside us as we work toward realizing it. Using her own story as a catalyst, Marr encourages women to:
SURRENDER THEIR PLANS TO GOD
STAY IN TEMPO WITH HIS SPIRIT
AND STEP INTO A DEEPER RELATIONSHIP WITH CHRIST.
When they do, she says, they will be able to move confidently into the future, knowing their dreams and God's desires are aligned in perfect harmony.
---
AVAILABLE FOR PRE-ORDER TODAY!
---
---
I hope and pray that this book encourages you along in your own dreaming journey with the Lord, and I cannot wait to for you to hold it in your hands! I am so thankful for each of you that you continue to read my blog, and I hope this book will be a huge blessing to your heart!
We will be putting together a book launch team later in December. Basically, that will be for anyone who would like to help me spread the word about the book, pray for the readers and the book, and write a review on Amazon. If you are interested, reply to this email and let me know. I will send you more details later in the fall!
Would love for your help in spreading the word about the book in any way that you can. (#dreamingwithgodbook) This project is not something I have done on my own. It involves a team of publishers, editors, book cover designers, my wonderful agent, family members, and on and on. Dreaming with God officially releases FEBRUARY 6th, 2018. Thank you for coming along on this journey with me!