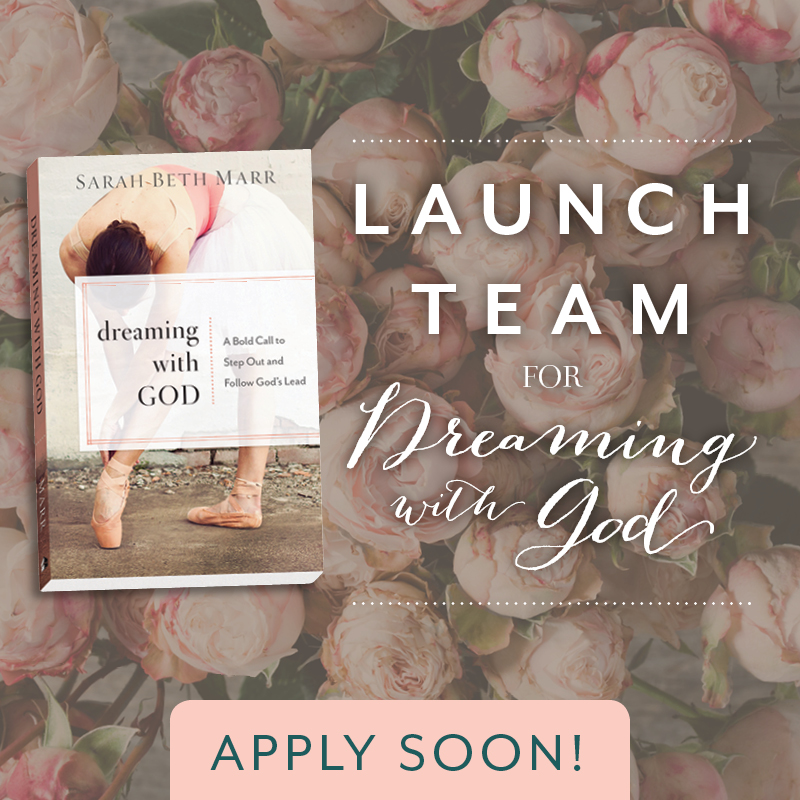 I can't believe we are just a couple of months away from the release of Dreaming with God! I truly cannot wait for you to hold it in your hands!
We are creating a book launch team of gals who are willing to help me spread the word about Dreaming with God. It doesn't matter if you are family, a friend, one of my blog readers or social media friends, if you're excited about this book, I would LOVE your help in spreading the word.
The book Dreaming with God is really about becoming the YOU God had in mind when He made you. It's stepping into your purpose. God wants to use you, delight you, and know you. He wants to dream with you. This book is a tool to do just that. It's my prayer that gals can use this book to draw closer to God as they journey with Him to discover the beauty of letting Him truly lead their life and their dreaming heart. Today I want to share with you what some of my first readers have to say about Dreaming with God:
"In Dreaming with God, Sarah Beth Marr invites you to a new kind of dance—a dance between you and God—dreaming of possibilities while following His lead. With the tender voice of a loving guide, she gives every woman's heart the permission to dance and dream. Because dreaming means hoping, and hoping means living, each and every day, with our eyes fixed firmly on Christ as we embrace the beauty of dependence on Him, with each and every step."
—Denise J. Hughes, author of Deeper Waters; editorial coordinator for (in)courage by DaySpring
"We all want to follow our dreams, but the question is, how do we get there? Sarah Beth Marr, in her own unique style, brings us to a place of trust and leaning on the Lord rather than simply on ourselves to pursue our dreams. As a ballerina, Sarah not only followed her dreams but also learned to rely on God as her source of strength and hope. Now she shares with us her practical insights to help us settle into a rhythm of grace. You will love her honesty and openness as she leads us to a deeper love for our heavenly Father in Dreaming with God."
—Karol Ladd, author of The Power of a Positive Woman
"In this inspiring journey, Sarah Beth Marr grabs God's hand and dances into her heartfelt dream. She gathers up inborn talents and, with work and prayer, transforms into a ballerina. Sarah grows into God's purpose and passion for her. But this book isn't just about Sarah. By telling her story—the ups, downs, questions, and perplexities—she encourages readers to pursue their unique paths too. With grace, delight, empathy, and Scripture, Sarah weaves in gentle advice for anyone who craves fulfillment by dreaming with God. If you're seeking purpose and meaning, don't miss this book."
—Judith Couchman, author of Designing a Woman's Life and The Art of Faith
"As a former dancer, Sarah Beth Marr's debut book, Dreaming With God, sang to parts of my soul that have laid dormant. The imagery takes me back to the days at the barre, pointe shoes laced, the pianist waiting for the teacher's direction to start up the music one more time. Sarah calls the reader to the life of a dancer, ready to work and move with the music in dreaming with God. When the music and muscles are working together as they should, we make something beautiful—and soar. It turns out this book spoke to many dormant parts of my soul, those dreams waiting to be uncovered by God's music."
—Alexandra Kuykendall, author of Loving My Actual Life; cohost of The Open Door Sisterhood Podcast
"The Spirit of God is untamed and free, and following Him is never a formula. It's a dance. But all too often we domesticate God's wild and holy moves, and our dreams grow small as a result. In her book Dreaming with God, former professional dancer Sarah Beth Marr invites us back into step with our perfect Dance Partner, who leads us in the life we were created for."
—Sharon Hodde Miller, author of Free of Me: Why Life Is Better When It's Not about You
"Dreaming with God provides wings for your dreams, as Sarah Beth Marr opens your eyes to the beautiful metaphor of dancing by following God's lead. Sharing from her journey as a professional ballet dancer, Sarah Beth gently weaves together personal stories and Scripture, all with the knowledgeable guidance of a caring dance instructor. After just one chapter, I was holding my head higher, paying attention to my posture, and becoming aware of my steps—both literally and figuratively! This book is practical, encouraging, and spiritually uplifting. Readers will love being drawn into the drama and excitement of their dreams. In these pages you will find that following God's lead in the pursuit of those dreams will result in a life-dance that's a bouquet of grace and beauty."
—Rachel Anne Ridge, author of Flash, the Homeless Donkey Who Taught Me about Life, Faith, and Second Chances; speaker; and artist
"Dreaming with God is a wonderful read, helping us to realize we are not alone on our journeys through life. I definitely have felt stress in my life trying to decide if what I was pursuing was going to work out for me or if I was on the right path. Dreaming with God encourages us to see what God has planned for us and demonstrates how His plan may not always be what we think we want, but in the end it is the best plan for us. This book brings ease to the soul and mind."
—Betsy McBride, former principal with Texas Ballet Theater and current artist with American Ballet Theater
"I am grateful that I got to experience this beautifully written book! Dreaming with God was a true retreat for my soul. Sarah Beth Marr's authentic point of view invites you to discover God's desire for you to dream with Him. In the truth Sarah Beth expresses in her thoughtful words, I was flooded with encouragement to embrace all He has designed for me to be. Don't miss this book! Grab a warm cup of coffee and soak in these words of encouragement!" 
—Katie Norris, founder of Fotolanthropy & Fotostrap; producer of two award-winning documentaries, Travis: A Soldier's Story and The Luckiest Man
If the message of this book excites you, I would LOVE for you to consider being a member of our book launch team! Here's what to expect:
WHAT YOU WILL GET:
A FREE copy of Dreaming with God before it releases! Woot! Woot!
Exclusive access to Sarah Beth's private Facebook group and exclusive emails
Downloadable printables with quotes from the book to share and print
Phone background with quote from the book
WHAT WE NEED FROM YOU:
To read the book :)
To write a short review on Amazon, Barnes and Noble, Christianbook.com, or Goodreads
To help spread the word by word of mouth to friends, family, and/or your church and via email and/or social media
ADDITIONAL INFO:
Watch for an email later this week with the application form, fill that out, and submit. The final launch team will be chosen by January 3rd, and you will be notified by email if you have been selected. We will have a blast together spreading the word about Dreaming with God! Between January 3rd and the launch date, February 6th, I'll be sending you occasional updates, things to share, behind the scenes exclusives, and other fun stuff. It's going to be a ball, and most of all, it will just be fun and easy! That's the goal – nothing stressful or overly time consuming! We have a limited number of spaces for the book launch team, so either way, thanks so much for your interest and support. I wish I could hug each of you!